EBI CONSTRUCTION ACTIVITY REPORT - EXTRACT
AGGREGATE DATA FROM ibuild.info CONSTRUCTION PROJECT DATABASE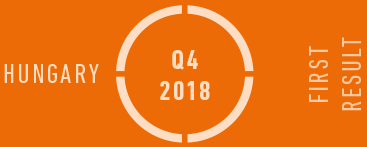 ACTIVITY-START 1 – CONSTRUCTIONS STARTED – COUNTRYWIDE

Activity-Start indicates the number and total construction value of projects whose construction started in the given period. In Q4 2018, construction works began in the value of around HUF 430 billion, which is equal to the value registered in the same quarter of the previous year. The Activity-Start indicator of civil engineering declined to the greatest extent. The Activity-Start indicator of non-residential construction posted a major hike of more than 30%. The HUF 70 billion Activity-Start registered in the office segment is the second highest value in the history of the database. When it comes to multi-unit housing construction, it has been plummeting for the 4th consecutive quarter in a row. Detailed data can be found in the full report.
OUTPUT 1 – AMOUNT SPENT ON CONSTRUCTION – COUNTRYWIDE
NEW CONSTRUCTION | RENOVATION | TOTAL

Output indicates the amount spent on construction in the given period. HUF 2,240 billion were spent on the construction of projects listed in the database in 2018, which is 45% more at current prices than in 2017. Output in civil engineering grew by about 70%, while Output in building construction increased by about 30%. Without exception, all construction segments posted a growth. In 2017 and 2018 alike, most of the amount was spent on multi-unit housing construction within the building construction submarket. Overall, Output of building construction renovation increased above average. Detailed data can be found in the full report.
---
The EBI Construction Activity Report is made quarter-yearly in English and in Hungarian by processing ibuild.info construction project database, in the cooperation of ELTINGA, Buildecon and ibuild.info. The aggregates calculated from the data of individual construction projects carry up-to-date information about the current performance of the Hungarian construction market.
The full EBI Construction Activity Report contains Activity-Start and Output indicators detailed by building types (residential, office, industrial, road, rail, utilities, etc), regions or new construction – reconstruction.
To access the full EBI Construction Activity Report, log in to your ibuild.info user account. If you do not have an account yet, you can register for free. Once you have logged in, you can see the full report if you have already purchased it, or request a quotation if you have not yet ordered it.
© E-BUILD Kft., BUILD-ECON Kft., ELTINGA Kft.