EBI CONSTRUCTION ACTIVITY REPORT - EXTRACT
AGGREGATE DATA FROM ibuild.info CONSTRUCTION PROJECT DATABASE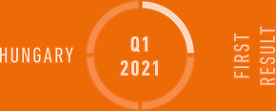 ACTIVITY-START 1 – CONSTRUCTIONS STARTED – COUNTRYWIDE

Activity-Start indicates the number and total construction value of projects whose construction started in the given period. In Q1 2021, Activity Start dropped by 35% at current prices over Q1 2020. Among the sub-markets, the multi-unit housing one registered the smallest decline. In the non-residential sub-market, only the Activity Start of education and that of other building construction segments grew. The around HUF 80bln worth of works started in industrial buildings and warehouses cannot be considered low either, but the base is very high. The Activity Start of civil engineering has been the lowest since 2016. Detailed data can be found in the full report.
OUTPUT 1 – AMOUNT SPENT ON CONSTRUCTION – COUNTRYWIDE
NEW CONSTRUCTION | RENOVATION | TOTAL

Output indicates the amount spent on construction in the given period. In Q1 2021, at current price, the same amount was spent on the construction of the projects listed in the database as in Q1 2020. This, at constant price, is around a decline of 6%-7%. The Output of multi-unit housing construction has been on the decline since the end of 2019, and we have now registered a 27% decline at current price. The non-residential sub-market has been growing steadily for several years. The 16% growth in Q1 2021 was mainly due to the expansion of industrial buildings and warehouses, education buildings and transport buildings. Detailed data can be found in the full report.
---
The EBI Construction Activity Report is made quarter-yearly in English and in Hungarian by processing ibuild.info construction project database, in the cooperation of ELTINGA, Buildecon and ibuild.info. The aggregates calculated from the data of individual construction projects carry up-to-date information about the current performance of the Hungarian construction market.
The full EBI Construction Activity Report contains Activity-Start and Output indicators detailed by building types (residential, office, industrial, road, rail, utilities, etc), regions or new construction – reconstruction.
To access the full EBI Construction Activity Report, log in to your ibuild.info user account. If you do not have an account yet, you can register for free. Once you have logged in, you can see the full report if you have already purchased it, or request a quotation if you have not yet ordered it.
© E-BUILD Kft., BUILD-ECON Kft., ELTINGA Kft.