EBI CONSTRUCTION ACTIVITY REPORT - EXTRACT
AGGREGATE DATA FROM iBuild CONSTRUCTION PROJECT DATABASE
Hungary
Q3 2021
ACTIVITY-START 1 – CONSTRUCTIONS STARTED – COUNTRYWIDE
All construction market segments together
Latest 4 quarters together, at current price, HUF billion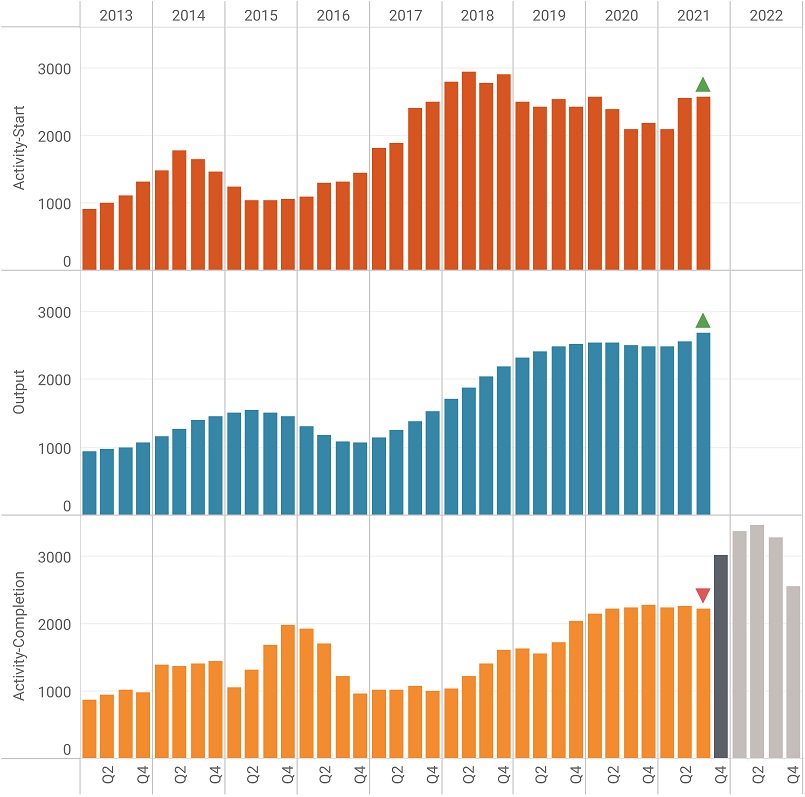 Activity-Start indicates the total construction value of projects whose construction started in the given period. Output indicates the amount spent on construction in the given period.
In Q3 2021, the total value of started construction works went up by 5% at current prices over Q3 2020. With this, the cumulative Activity Start of the last 4 quarters continued to rise. As a result of the bouncing Activity Start, the long-stagnant Output also began to grow. In the meantime, Completions have been postponed, but a large growth is expected until Q2 2022. Detailed data can be found in the full report.
---
TEBI Construction Activity Report is prepared quarterly in English and Hungarian languages by processing ibuild.info construction project database. It is the cooperation of ELTINGA, Buildecon and ibuild.info. The aggregates calculated from the data of individual construction projects carry up-to-date information about the current performance of the Hungarian construction market.
The full EBI Construction Activity Report contains Activity-Start and Output indicators detailed by building type (residential, office, industrial, road, rail, utilities, etc.) or by region.
To access the full EBI Construction Activity Report, log in to your ibuild.info user account. If you do not have an account yet, you can register for free. Once you have logged in, you can see the full report if you have already purchased it, or request a quotation if you have not yet ordered it.
© E-BUILD Kft., BUILD-ECON Kft., ELTINGA Kft.